PHDwin V3: Welcome to the next generation of industry-leading economics and reserves analysis software
PHDwin V3 in 3 Minutes
Watch this video to get a brief overview of some of the new and exciting features and improvements provided by PHDwin V3 including:
Customizable User Interface designed to maximize your workflow efficiency

Improved mass-editing features: copy/paste from Excel, Global Editor, and Grid Editor

Qualified Economics and Scenarios for managing your data and performing sensitivity runs and lookbacks

Upgraded graphics engine allow you to plot revenues, expenses, taxes

Microsoft SQL Database Platform
Industry-Leading Economic Calculation Methodology
The bottom line of any economics and reserves software is the ability to produce quality reserves data. PHDwin V3 provides the best reserves reporting in the industry because it provides the best economics. The more accurate the economics, the more accurate the reserves. 
PHDwin V3 Economic Calculation Methodology Features:
Improved economic limit calculation by introducing Max Cum Cash Flow

Support for differentiating sunk and discretionary investments (PDP plugging vs PUD plugging)

Economic Hurdles – discounted cash flow, non-discounted cash flow, and ROI based (all are critical for automation)

Microsoft SQL Database
PHDwin V3 is built on MS SQL providing industry standard stability and performance that your business demands. The open data structure provides opportunities for integration with other systems.
MS SQL Benefits
Virtually limitless case count without sacrificing calculation speeds1

Support for client/server deployment or can be run locally

Performance can be optimized with hardware

True multi-user support 

Users can perform concurrent operations – no waiting for one calculation to complete while moving onto the next task

Unparalleled calculation and reporting speeds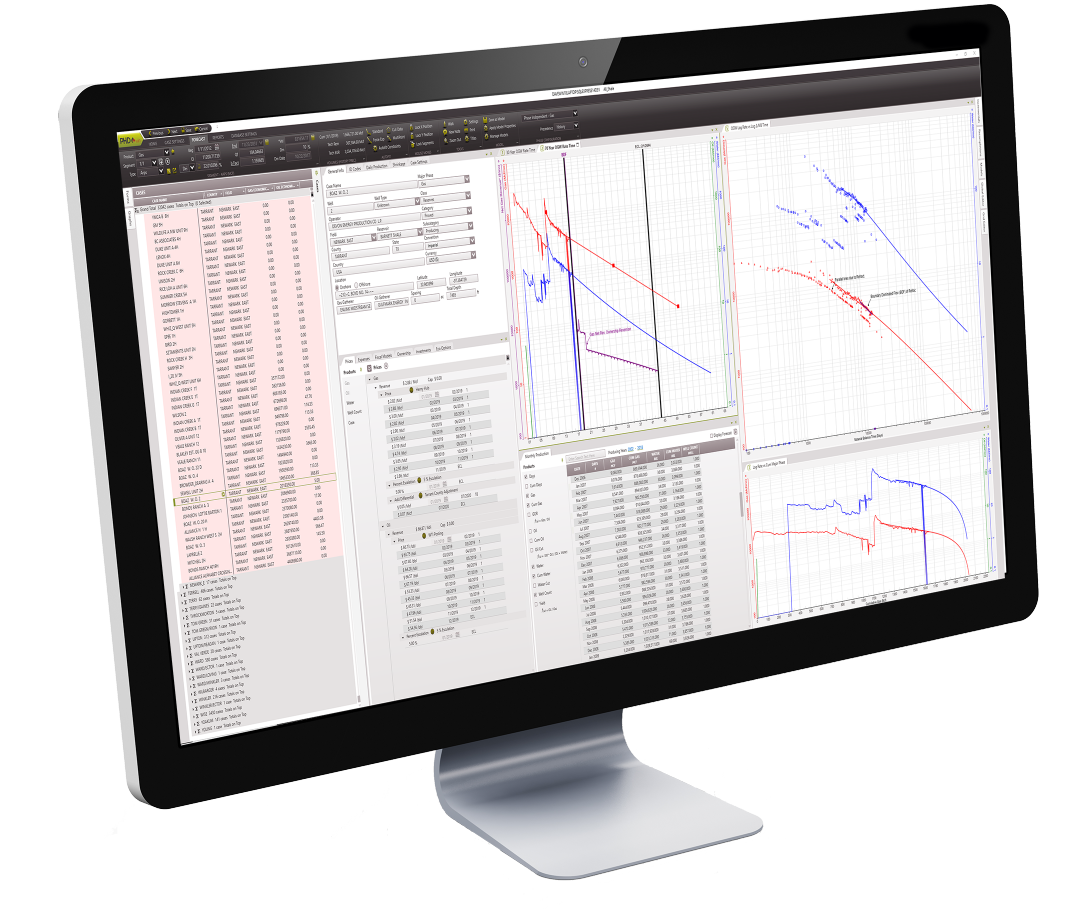 Highly Customizable Interface
PHDwin V3 features a highly definable user interface that allows users, teams, and managers to create, store, and share customized views that will increase workflow efficiency.
Forms are used to place data anywhere on the screen

Views are a stored group of Forms that can be shared on an individual or team basis

Views allow for task-specific workflow

True multi-monitor support allows you to scale forms across all monitors
Shared Corporate Knowledge
Data Discipline
Corporate data standards are established at the database level resulting in:
Predictable, comparable, quality results

Enforced consistency

Reduction in QC time

Reduction data entry errors
Qualified Data and Scenarios
Qualified Data
Store variants of case data to improve business intelligence and efficiency through the use of qualifiers. 
Scenarios
The scenarios tool is used to manage and maintain evaluations by purpose and includes hierarchical qualified data creating a high degree of data sharing and controlled data flow.
Unrivaled Graphing & Forecasting Tools
Available Forecasting Methods
PHDwin V3 features five forecasting methods that meet the industry's needs for decline curve analysis software. In PHDwin V3 these methods can be used in combination.
Arps – Interface improvements make building Arps projections more convenient than ever

SEDM – Build Stretched Exponential Decline projections

Scheduled – Input exact values for projections with ability to manually edit or paste from a spreadsheet

Lin-Time – Linear time projections are ruled by y = mx + b

Flat Projections – Maintain a constant value over a specified period of time
New and Improved Forecasting Tools
Multi-graph display 

Drag & Drop "Bendy B Factor"

Introduction of Flow Regime Indicators

Child case overlay for group cases

Plot revenues, expenses, and taxes on graphs

Introduction of graph models that can quickly and easily be applied to one, many, or all cases. If the model is updated, all cases using that model are updated without any further user inputs. 

Autofit options are now editable and database specific and include Standard, Forced Exponential, Cull Data, and Multi-Point

The Forecast ribbon provides more control and transparency for all graph and product settings.
Flexible Import Options
PHDwin makes importing data to create or update cases easy with more than 25 supported data vendors and file types in addition to database and spreadsheet-based data.
Supported Import File Types:
PHZ Transfer Files (*.phz)

ARIES (via Access *.accdb or *.mdb)
PowerTools – let us assist with your conversion

Accumap (*.axp)

Divestco (*.pds)

DrillingInfo/Enervus (*.dri)

DrillingInfo Well/Enervus (*.drw)

Future (*.fut)
GeoLogic (*.glx)

GeoVista (*.cpd)
HPDI (*.hpd)
IHS (298) (*.98c)
Lasser (PRN v2) (*.prn)
Merak (*.mer)
QEngineering (*.qen)
Rextag (*.rex)
Rystad (*.rys)
SweetWater Data (*.swd)
TGS Geological Products & Services (*.tgs)
WellDatabase (*.wdb)
WoodMackenzie (*.wmc)
Comma Separated Values (*.csv)
Access 2007+ (*.accdb)
Access 2003 – (*.mdb)
1PHDwin V3 installs with SQL Express, which can support databases up to approximately 5000 cases. Companies with larger case counts may wish to explore MS commercial products or Standard Edition.