Working with Decline Curves in PHDWin
Suggested Reading
You'll find helpful documentation on the entire graphing and forecasting process in the PHDWin User Manual. This document is a PDF located in your PHDWin installation directory, typically found at C:\Program Files (x86)\PHDWin 2.9\Documentation.
Suggested chapters are:
Chapter 13 – Page 97 – Graphs
Chapter 15 – Page 113 – Forecasting Production
The Forecast Window (ARPs)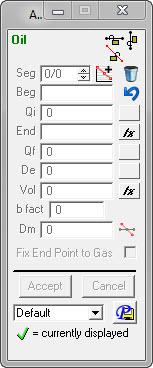 Accessing the Forecast window requires the user first open the graphs for the active case. From the file menu, select Graphs > Display. Then click the
icon located on the top tool-bar to open the forecast window.
Horizontal Segment Lock - The segment on the graph becomes only capable of horizontal movement; this keeps the flow rates constant with changing dates.
Vertical Segment Lock - The segment on the graph becomes only capable of vertical movement; this allows the start and end date to stay constant with changing flow rates and volumes.
Segment Endpoint Lock - When two segments are present for a single product, the connecting endpoints are locked together by this button.
Insert Segment - This button inserts a new projection segment on the graph for the given product. Segments can be inserted before or after the current segment.
Delete Segment - This button deletes the current segment from the graph.
Undo - The undo button takes the user back to the last graph SAVED for the present case. It does not actually undo the last task performed, but does an undo on all tasks performed since the last save.
/
Forecast window values with
next to the value indicates the value is being calculated using the Arps formula. To change the values being auto-calculated, drag the
to another available cell.
Seg - Indicates the current/total number of segments projected (max 10/product)
Beg - Beginning date of the projection segment
Qi - Initial flow rate of the segment (in units corresponding to product display)
End - End date of the projection segment
Qf - Final flow rate of the segment
De - Initial effective decline rate in percent (value of 10 = 10%)
Vol - Volume under the curve segment adjusted for historical production
b fact - Hyperbolic b factor. Accepted range of -5 to 5
Dm - Minimum decline rate (decline rate at which hyperbolic projection becomes exponential)
Segment Null Projection - Pressing this button causes a 0 or Null projection to be input for the 1st decline segment. This is useful in large databases for noting whether cases have been evaluated or not.
back to top